The "How Berkeley Can You Be?" Parade
Sunday, Sept 30, 2001, 11 a.m., Downtown Berkeley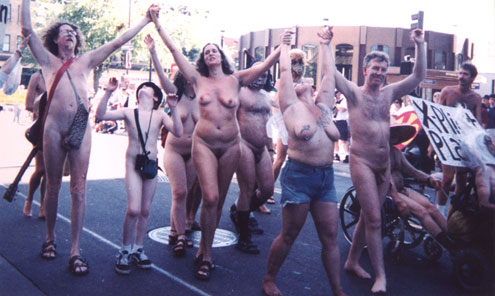 X-plicit Players at the 1999 "How Berkeley Can You Be?" Parade
Once again we've been invited to be part of this year's "How Berkeley Can You Be?" Parade. Amongst the "80 art cars from around the country" (doesn't sound too BERKELEY to me...) and the various other yuppie appurtanances and wild floats, you'll find the X-plicit Players' contingent of naked humans rendering Paradise visible to an always-appreciative crowd.

Our Group Body will be moving through the street as part of a much bigger parade. We'll be carrying large colorful signs, bringing our bodies together, and embracing the observers on the sidewalk. This will be our fifth year in the "How Berkeley Can You Be?" Parade and the crowd has always received us with tremendous warmth and appreciation (which is why we keep coming back).

If you're interested in dancing naked through the streets of the city, embracing in a group, while thousands of people cheer, here's your chance! But in order to be part of our contingent in this parade, you have to get together with us in advance. We emphasize coherence of attention and an intimate feeling amongst our parade group; we're not just displaying nudity but also advanced states of friendliness.

If you want more information, get in touch with us!


Site design by Sixth Sense R & D
email the Site Maintainer