September 2000, Mythic Berkeley...
The 9th Annual Nude & Breast Freedom Parade gathers to Celebrate the Beauty of the Body, and the Beauty of the Liberation of the Body from boring fashion and repressive social standards.

We begin in People's Park, connecting with the Earth, Trees and Sky. Old friends and strangers gather like cells in the womb of the Park as the Spirit descends.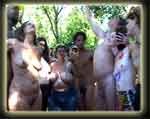 We Parade and Dance through the streets, Celebrating Life, Nature, and Each Other. We're an affirmation of the joys of embodiment, sharing the fleshy world together.

In rituals we reach through clothes and bodies, through buildings, Culture, Life and Death, and Heaven and Earth, merging as One.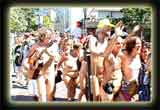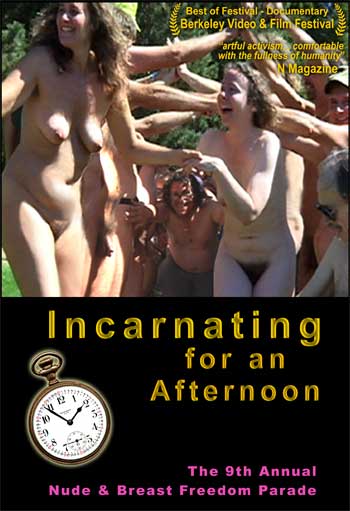 ---
| | |
| --- | --- |
| Adapted, Directed and Edited by | Marty Kent |
| | |
| --- | --- |
| Produced by | Debbie Moore and Marty Kent |
| | |
| --- | --- |
| Videography by | "Chex" Demon and Steve Jacobson |
| | |
| --- | --- |
| Music by | Marty Kent and Debbie Moore |

NTSC DVD Stereo HiFi
Approx run time 48 minutes

Copyright 2002, 2012 by Marty Kent
Going bravely through the street for brief hours, distracted and attacked by modern ways, we're an antidote to the poison of disembodiment.

Some people enjoy just Watching, while others can't help but Join In. Everybody's welcome, and all our ways fit together.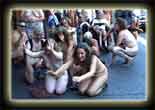 Our tightly woven Group Body's gradually forgotten. Finally, shot full of holes but still on our feet, we stagger back to the Park and give up the Ghost.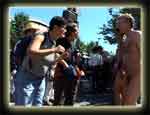 Even now you can still join in: while you watch the movie, cuddle naked with your friends!