BUST BUST BUSTED AGAIN
keeping abreast of breast freedom in Berkeley
by Deb Moore, an X-plicit Player
One score and nine months ago, our Council mothers brought forth upon this municipality of Berkeley, a new Anti-nudity Ordinance, conceived in shame and greed and dedicated to the proposition that no women were created equal to men... Now we, the X-plicit Players, are engaged in a great trial war, testing whether our Berkeley or any other Berkeley so conceived and so dedicated can long endure.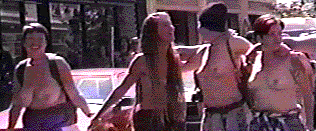 We went breast free during six street parades on Telegraph Ave. this summer. Our events protested the ban on breast visibility and celebrated the breast during festivities that occurred every Sunday under Moe's Bookstore's front awning and proceeded up Telegraph Ave. We established a presence where breasts were treated like the rest of the chest and back, to be out in the elements, seen, hugged, painted and taken for granted. One installation put special focus on "babies and breasts" by displaying our painted canvases with plastic baby doll heads and breasts, putting plastic breasts on men, and giving body crayons to kids and letting them do art on all of our chests in our body sculpture. We heard thanks and encouragement from Berkeley citizens all along the way, and instructions from many parents to their little kids to enjoy seeing bodies instead of being ashamed of them.

Our largest street action involved around eighty people, about twenty-five of them breast free women. It took the form of a street minstrel procession which toured the streets dancing with great abandon, singing our Breast Freedom Song and playing with street vendors and those who joined in along the way. We celebrated the recent law establishing breast freedom in NYC. There were no arrests during these events although many cops saw us and even greeted us with encouraging hellos and nods. We videoed them and us and even one cop who radioed in to report the "exhibitionists" and got instructions from headquarters to let us be.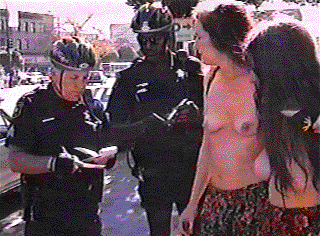 On October 24, 1995 Nina and I had protest signs painted on our arms that depicted a banned breast symbol, when we were stopped and cited for disobeying the Anti-nudity Ordinance. We videoed the officers, while alerting them to the fact that they were in the wrong for interrupting a constitutionally protected act of protest. They escalated the charges from a citation to a misdemeanor when they received a "complaint" from a Kareem Abdul Williams a few days later when he observed us involved in the same activities a few days later.
Now our team of lawyers are preparing for another full jury trial. We have won all of our cases so far, but that was when it was legal in Berkeley to be breast free. The city has tried in the past to wipe us off the streets by claiming we were involved in "lewd", that is genitally focused sexual activity, or affrontive sex. The BART cops tried to clean us off the trains with the claim that we were "willfully disturbing others", a claim that none of their arresting officers would support in the courtroom. Each time our lawyers did what they will do this time, that is to establish that the constitution protects communicative free speech and artistic expression utilizing the body to speak out. We hope to have the case against the Anti-nudity Ordinance thrown out in pre-trial hearings. But if the judge is not well versed on constitutional law he may pass the case on to the jury, costing everyone a lot of time and money and forcing us to go through a full jury starting June 14th.
The most positive result would be that we could prove that the ban on women's breasts is unconstitutional to begin with and therefore the ordinance should be "cleaned" off the books. It will be another example of adults standing up in our society for customs and beliefs that come from high-minded standards of human intimacy and attention to body appeal and body diversity. Women with breasts like mine that are not airbrushed picture perfect, breasts that are in the process of breast feeding or that droop down some from breast feeding, men whose chests are not built, even a man with one arm instead of two, are all part of our procession. Let's clean up our archaic laws and get rid of them rather than getting rid of the visibility of the human body in all of its many forms!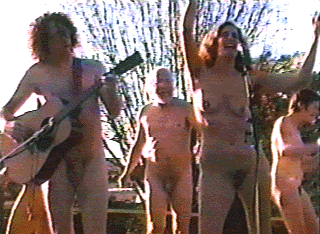 We rarely go to the papers and the press to invite involvement. Actually, we love to do our thing on the smallest scale possible, keeping things homey and intimate in a cozy sort of way on the streets of our local neighborhoods. But here we are now, asking you who believe in keeping the right for Nina and me, and any women who want to have their upper bodies free to be out in the air and sun, to do the following... Come to our indoor event, The Tour of Touch, at Ashkenaz, on Sunday, June 23rd at 8:00 pm. (note: this is ancient history now...) and/or call to give us your phone number so we can give you a call to tell you if we're definitely going into a jury trial on June 18th.(also long gone) These gatherings will be a time for us to make our presence felt by each other and by the judge and jury. Simple presence watching in the courtroom will definitely help us win. We do not want to do real time behind bars!

By the way, our indoor performances are very near and dear to our hearts. The "tour of touch" is a ritual of interaction with the audience in slowly developing layers of observation of the other. We come to know the body as a direct means for "reading" through touch, and perceiving the inner mind states of the other person with amazing intensity. Our poetic script and music takes you through a specific maze of re-orientation to the landscape of the body, a travel into merged psychic voyaging. We greatly cherish the gift of presence that our audiences all over the country have given us in galleries and universities where we have performed. But now, we are most excited to bring you a cast of X-plicit Players that has been performing out in the streets of Berkeley for years and now will get down with you indoors! Also slated for Ashkenaz is our BUST BUST BUST video of this year's street events and citation footage, edited by our Nina Shilling, and original X-plicit Players' music performed live by Marty Kent and others. Please c'mon out and lend a tit! We'd love to see and feel you in an indoor protected local Home like Ashkenaz! Of course all proceeds ($8 per ticket) go to legal expenses. And we look forward to seeing your smiling face in court.

still lovin' ya, Debbie Moore & the X-plicit Players.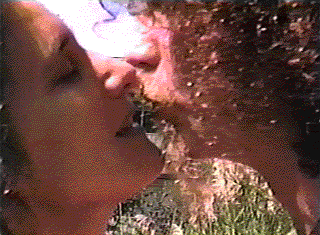 ---
Back to the Articles list
Back to the X-plicit Players Home Page



Entire contents ©1996, X-plicit Players -- all rights reserved
Last update 23 May 1996