BUST BUST BUST, Let Them Be Breast Free!
by Deb Moore, an X-plicit Player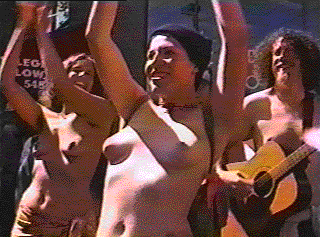 We are awakening each other to the beauty of the sight of bare breasted women in town, out in the streets, in all the local areas that we love most to live our lives. We are having parades to gather together with other women, men and kids who also want to live in a climate where bodies with breasts can be seen moving about in naked abandon, celebrating life euphorically, and expressing tenderness during all walks of life. Those who parade with me draw energies out of me that are only just beginning to find a place in this world. The parade forces me to get my body and ideas out and across to others in a form that is more adamant, more dynamic and insistent, to be more enthusiastically myself. I feel more myself at these events in the same way one usually feels more expressed with a lover than a stranger. The joyous appreciative gazes of those who surround us draw out our vigor, our ability to move orgasmically, our love of being absolutely still, of painting each other, touching each other, singing out to each other and also being people who really do have breasts.
This summer's first Breast Freedom Parade was different than that of earlier years in its size and forcefulness. About twenty five women, fifty men and a handful of kids participated in ways that often catapulted me into new ways of being, singing, moving, feeling a group spirit with more depth. A crop of women in their early twenties danced so wildly to our song that the event took on the feeling of a wave, drawing motion from itself in heaves and swells. It was great to see the youths of our parade take to the street and lead the swarm up several blocks, filling Telegraph Ave. from curb to curb with soul. And it was even better to feel the whole group quiet down immediately to listen when I asked them to answer me by making a vow to stand up for any woman in any town who wants to be breast free. All together the paraders made a vow to stand up and say, "Let them be Topfree!"
During this, the first parade of this season, I saw our culture shift into a place where strong-minded women were insistent on their own right to live with breasts out, each insistent for her own reasons. Women in their twenties, women in their forties, all pushing through the taboo against revealing breasts. Pushing against the fear of breast visibility can be hard work, grating and awkward work, requiring focus on goodwill toward others and a strong effort at communicating. I saw men and women involved in nonverbal communion, the kind that sends a psychic message of goodwill toward each others' bodies out across the airwaves, into and through each other. I envisioned women all over the country becoming able to carry inner confidence radiating through their warm glowing chests where all varieties of beautiful breasts become visible along with their faces. At the parade I saw an absence of shame, a shame that had been pushed into absolution, by sheer enthusiasm for oneself and the love of one's own body. "Before they rust or turn to dust, let them be Topfree," we sang and chanted and whispered bowing low to the ground in worship of the fleeting wonder, the magic, the sacred gift of having a body to dwell in at all.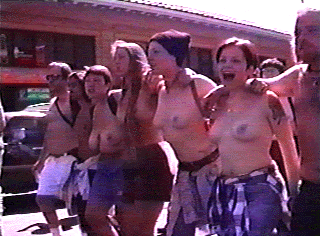 The second event came two weeks later and began again in People's Park. We had smaller numbers this time which is often a welcomed thing. The group of people there got a chance to be even more tuned in to me and Nina, more willing to respond to our need to be danced with, sung to and attended to closely. Nina and I were the only women who started the parade with breasts exposed but we still wanted to feel the states of abandon and affections we had felt at Topfree events that had come before. Marty played his guitar as ferociously as ever, Bob and others in our X-plicit Players cast drew upon those in the parade for even more connection and responsiveness.
We called on every man there to come through for us, keep responding to our changes of emotion and motion by jumping into dance and play with us. We called on many friends all along the Ave. who are street vendors, street people, store owners, neighbors, stopping wherever we met them to get them to merge for moments with the festivities of the parade. It was a climactic way to visit and celebrate the changing of the Ave. into a place where breast freedom lives again. All along the parade route, women appeared to take off their shirts and dance with us, men turned away from their work to frolic for awhile, merchants stood in doorways to greet us, wave, watch and enjoy.
I love the second parade because it blended the feeling of erotic fervor together with a downhome ease of motion, a slowness and flexibility that allows everyone to stop immediately to take each other in. This is perhaps the aspect of breast freedom that I love the most. That is the way in which has become a means for being more open and available to involvement with each person on the street. It adds strength to the powers of concentration and ability within people to see each other clearly, commune in new ways. People are more exposed to us when our breasts are out. Their spirits leap out at us and their hopes are raised. I never witness so much obvious happiness in people's faces, words and mannerisms as I do when topfree. The communications we have are more instinctual, childlike and deeply human. It is with great humility that I say that I need to, I must live within a world that can encompass this custom, and I demand the right to it.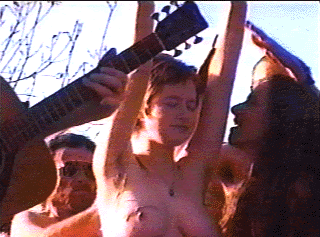 The most recent parade was an art installation consisting of art pieces made of canvas, paint, 3-D plastic baby heads, plastic breasts, didgeridoo and percussion players and, of course, our bodies. We have the support of Moe from Moe's Bookstore to set up our site under his front windows in an area of the Ave where other artists, the Farmer's Market and street vendors take up the portion of the street that is cut off to traffic. I wanted to slow down even more, bring our parade down to even a smaller size. We brought only our cast members and the few videographers and photographers necessary to make documentation for legal defense purposes. The idea is that the smaller we get, the more opportunity we have to co-exist within the neighborhood in ways that are less and less overwhelming. The more we have a chance to merge with the activity of our neighborhood in ways that are truly personal and with facets of street life that are suggested by what is already there. Years ago we went everywhere breastfree and even entirely naked and felt a fit with our society on the street. On the third event this summer, we felt that fit quietly come back to us.
Somehow the focus became babies and children and their ease with breasts. The paintings spoke of this with their tiny baby faces, toys and breasts mingling brightly. More importantly, a young eight year old son of one of our players was central to our body painting. He and his Dad first painted themselves while some women stopped to paint us. Then the boy painted me and Nina with great eagerness and ease. His face reflected the merriment he felt to paint all body parts including breasts with the same rapture and imagination. Parents with babies stopped by all day to drink in a public scene of great calm and physicality shared evenly with kids. Tiny toy dinosaurs and clowns roamed off of the canvasses and onto our bodies like more landscape. Marty's didgeridoo thundered us into trance.
We made a slow dance up the street with several men wearing the plastic breasts. I fed people grapes along the way to the rhythmic percussion played by Marty and Ken. When we spotted the first police officer we had found in weeks I drew our circle around him so we were near enough for him to see us and us to video him seeing us. The clear message is that the police are not stopping us. Our lawyer believes it is because what we are doing is considered protest and/or communicative free speech by the constitution and hopefully the police department. If they are smart enough to keep realizing this and know that our breast free action is exempt under the new anti-nudity ordinance, then we will continue to live out this freedom without arrest. We are certain that after years and years of continued enthusiastic response to breast freedom from those who live and visit our streets, it will become a given. Once it gains a natural and continued place in the day-to-day life of our town, the antiquated ordinance will be tossed. Alternatively, if we are arrested we are certainly happy to go to court with our team of loyal and brilliant lawyers to win the right that way. And so, friends, this is our plan and part of the continued adventures of X-plicit Players going Topfree in Berkeley!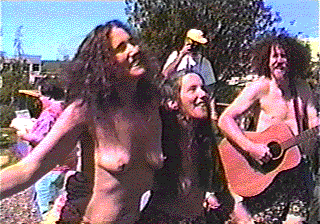 Future plans are to place small installations of breast free women in positions of recline at a variety of points all along the Ave. Some will be listening to music made by players with them, some will be body-painted, some will dance and sing, but all will relish the opportunity to experience simple presence on the street bare chested. The feeling will be blissfully serene, just loving being present.
Also future plans include doing the publicity again next spring to invite larger groups of women to come out with men and kids for the big parade experience. We may take these parades on the road to places far and near. Our 20 year old son Koala is postering his town of Santa Cruz to find women who would like to "Koala-fy" for a breast freedom parade there. If you want one in your neighborhood please sponsor four of us to come there. Or better still, burn your bra or your honey's bra and go out and celebrate on your own.
---
Back to the Articles list
Back to the X-plicit Players Home Page



Entire contents ©1996, X-plicit Players -- all rights reserved
Last update 23 May 1996