Legal Matters Gallery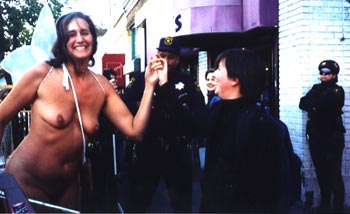 Deb wears wings and plays the flute during a wintery, pre-solstice event of "walking with the spirits". A joyful woman steps up to Deb and is holding hands with her, dancing and thanking her, while the officers begin citing and arresting the X-plicit Players. The citation charges were mysteriously changed into infractions, instead of misdemeanors, thus denying the Players access to a jury trial. When Deb and Marty appeared before Judge Greenberg on 4/10/98, the charges were dismissed due to their illegal charging as infractions. Telegraph Ave. 12/18/97.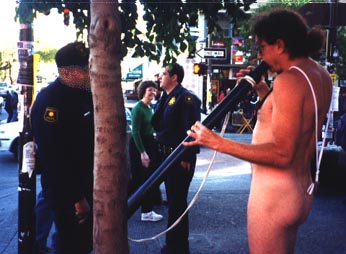 Marty plays a didgeridoo next to a tree while two police officers close in. He is wearing a sign that reads, "Be the Park" on one side and, "Human Nature" on the other. Marty and Deb were cited for this event and locked up for an invented "failure to appear" charge for 7/17/97. The players have documents from the court proving that the 7/17 charges were indeed previously dropped by the D.A. However, it took four pre-trial hearings before the charges would be dropped again. The X-plicit Players have had 15 charges dropped in 1997. Telegraph Ave. 12/18/97.
_________________________________