Psychedelic Performances Gallery

The "tour of touch" performance is an audience participatory ritual, evoking an alternative function of touch, led by sound and poetry. The X-plicit Players are like wilderness tour guides who take audience members, one-on-one, through the unknown terrain of the mind and body, along clearly scripted intimate pathways, into advanced perception of human nature. Club Ashkenaz, Berkeley, 6/23/96.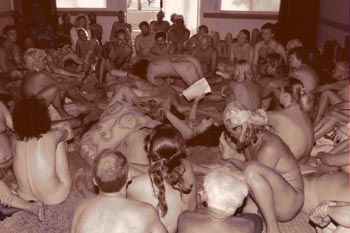 The X-plicit Players paint their bodies and bring their indoor performance on the road to a West Coast Naturists' Convention. Marty crawls into the laps of many audience members while Debbie reads "Tantric Touch", a script which invites Naturists to touch the "group body sculpture". The event is closed down later by Nudists who accuse these Naturists of breaking the resort's behavioral codes which discourage touch. However, many Naturists will go beyond the strong taboos against affectionate touch, by continuuing the event the following morning in the X-plicit Players' private tents. Laguna Seca Resort, Northern California, 5/29/92.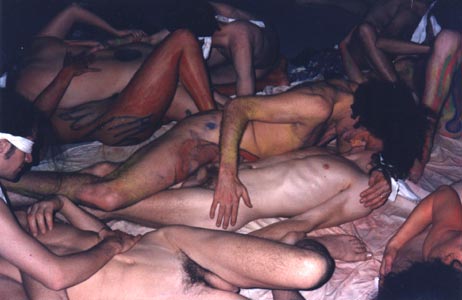 During the first of three great visits to Austin, the X-plicit Players take audience participants into tender embrace. The audience showed great eagerness to experience one another's inner messages on a "tour of touch" excursion of "body reading". Each body part tells a story that can be known through psychic reading assisted by touch. Blindfolds help many to sustain concentration and release new voyagers from distracting feelings of self-consciousness. Synergy Dance Studio, Austin, Texas, 1/17/92.
_________________________________