Naked in the Streets Gallery

Tom dances with Deb to Marty's didgeridoo playing, during "Tom's Birthday Suit Parade." Tom also stops many times along the way to give out cards that read "You can love your body, too."
Telegraph Ave. 2/15/98.

The "Heart of Nakedness" street ritual celebrates intimate affections and extends the sacred nature of People's Park out into the neighboring streets. They will shower grasses on Marty, douse Deb in mud, sing chants for a dance in front of Moe's Books, and end with a slow-motion walking embrace up Telegraph Ave..
Telegraph Ave. 7/17/97.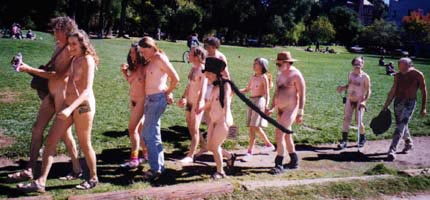 In a blaze of warmth, the 6th Annual Breast and Nude Freedom Parade sings and dances from People's Park out through the neighboring streets. The entourage stops on many corners to embrace favorite trees and street vendors. 10/12/97.
__________________________________